Discover more from The Irish Stew
Food News From Ireland
Over 3,000 subscribers
Seamus Jordan is one hell of a baker for one baker.
This is what Seamus does in his Carlow bakery, Plur. 
He sows the wheat in fields adjacent to his little bakery. He grows the wheat. He harvests the wheat. He mills the wheat into flour. Then he lights the wood fire of his masonry oven, built by himself and his Dad, and he bakes the flour that he grew, harvested and milled from his own wheat into loaves of Plur sourdough bread. 
Then he gets in his car and delivers the 500 Plur loaves he bakes each week to the various destinations around south County Carlow where they are sold, and where Plur is based.
The result of Jordan's graft is one of the most singular foods ever created in Ireland: the Carlow Loaf, which made its debut in mid-September, 2023. Grown, milled and baked by Seamus, it is an epic achievement, a solo flight that unites local terroir with tenacious skill. 
Here is an Irish food achievement to rank with the other Big Bangs of Irish food: Myrtle Allen opening Ballymaloe in 1964; Veronica Steele creating Milleens cheese; the first Michelin star for Declan Ryan's Arbutus Lodge; Gerry Galvin's oyster and black pudding for Eurotoques.
The Carlow loaf smells of meadow and sweet flour, and is the sort of loaf that you can eat in one go, standing in the kitchen cutting slice by slice, all pleasure and goodness. 
Seamus Jordan is the only baker doing this Trojan work in Ireland, but we reckon that he will inspire many more nascent bakers to follow his practice. He has taken the example of the community-inspired, wood-fired masonry oven bakery pioneered by the great oven builder Alan Scott, and has made it his own. 
He follows a line of European and American pioneers, intersecting with Alan Scott, who inspired the Plur oven, and the legendary baker Chad Robertson, of California's Tartine Bakery where Jordan worked. 
Robertson and his then wife, Liz Pruiett, featured in the seminal book The Bread Builders, authored by Alan Scott and Daniel Wing, which details the brick-by-brick way of building your own wood-fired bread baking oven, and living the baker's life.
Robertson and Pruiett were then baking at their Bay Village Bakery in Point Reyes, and had progressed from sleeping on a mattress on the floor in Alan Scott's house to running an acclaimed bakery where they would work all day long, every day.
This quasi-monastic devotion to bread and fire is pretty much the way in which Seamus Jordan is working right now. Tartine Bakery has moved a long ways away from those artisanal days, but Plur is flying the flag for the traditional, wood-fired bakery that blazes at the heart of the community.
"We want to feed our community with the best possible bread, so that meant actually growing the wheat," explains Seamus. With a friend he trialled four different varieties, hand-sown on a one acre plot adjacent to the bakery. Next year, he will sow five acres. The year after, he is aiming for fifteen acres, which will make his production almost completely self-sufficient. So far, the Mariagertoba wheat has proven very successful, thriving in spite of the rain and storms of summer 2023. Having his own Astrié Mill allows him to precisely set the grind of the flour.
The wood-fired oven is first heated to 500C, which takes about five hours, but this is too hot for baking bread as Seamus explains: "You're not cooking with the fire, you are cooking with residual heat." Once the oven hits peak temperature, he clears the embers, mops the floor of the oven, then waits until it gets to the correct temperature for his loaves. The oven will actually stay hot for a further two days after the baking.
Using wood fire, says Seamus, means that "the crust is a lot more unique." 
In fact, everything about the Carlow loaf is unique, and it is a landmark for Irish food.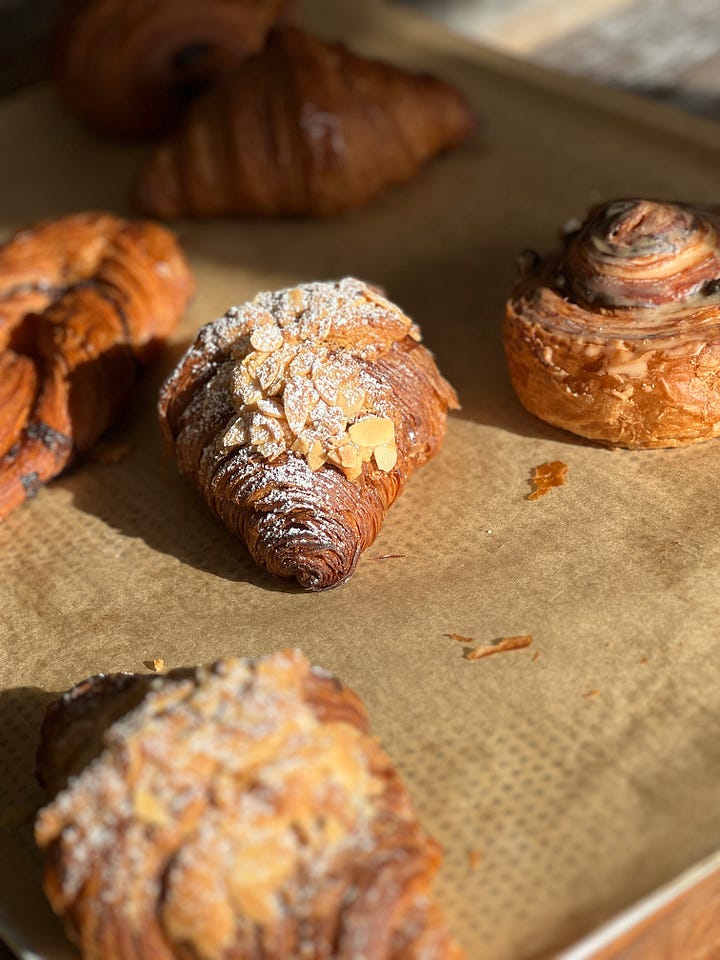 Seamus hopes to run baking classes in the future, so follow social media for details. The Plur loaves are available in several destinations in Carlow and Wexford: for details contact Plur.
The Bread Builders: Hearth Loaves and Masonry Ovens by Alan Scott and Daniel Wing, published by Chelsea Green Publishing, is still in print and available online.
The Irish Stew is a reader-supported publication. To support our work, consider becoming a free or paid subscriber.