Discover more from The Irish Stew
Food News From Ireland
Over 3,000 subscribers
The Dough Bros
The Dough Bros are known for making pizza. What the Dough Bros really make are paradigms.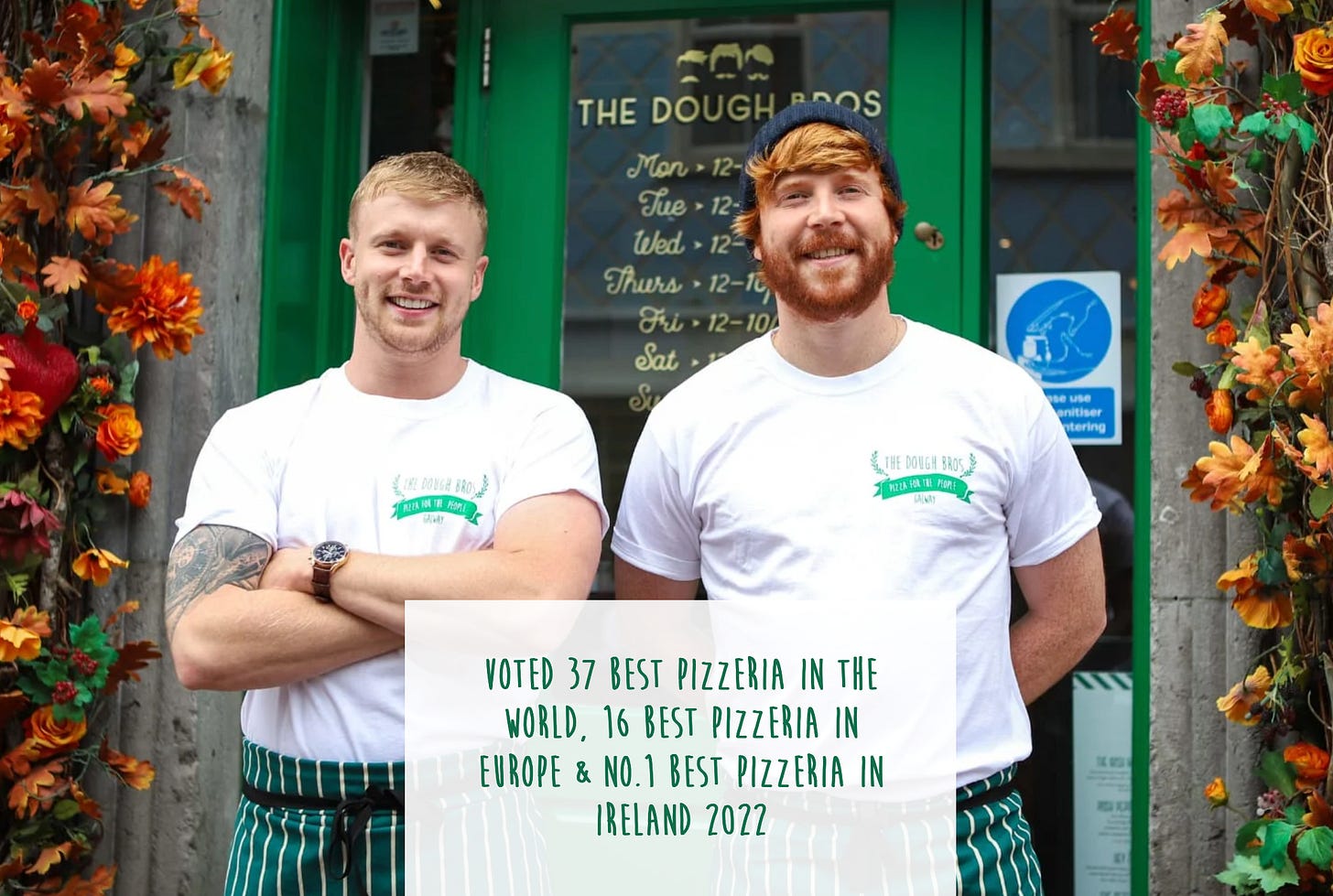 When they started, ten years ago now, Eugene and Ronan Greaney created a new paradigm in the strictly regimented world of pizza. Instead of attaching themselves to the regulations of one particular school – Neapolitan; Chicago; New Jersey – they created a Cool School where the pizzas were all about… well, The Dough Bros.
"We were determined to differentiate ourselves from everyone else. What better way to do that than creating a menu that reflects who we are as people. An idea could be inspired by our childhood, the area we come from, a product by a local producer, a recent trip."
The world is not so much their oyster, then, as their pizza:
"Truth is, an idea can come from anywhere. Like for example The Curry Cheese or the Cheese and Onion, both of which were inspired after a few pints of Guinness were consumed after work ;) 

"A curry cheese chip from Supermacs on your way home after a few pints is just a given here in Galway. The idea for the cheese and onion came from a night a couple of months ago with staff. There was a table of Guinness and two packets of cheese and onion crisps thrown in the middle, fully opened up. 

"That could be an international thing but it certainly feels very Irish. Remarking on how good they were, we all agreed we needed to recreate that on a pizza and the idea was born. It's a blend of Templegall, Smoked Knockanore, Kylemore Farmhouse and Toons Bridge mozz, on a bianca base with Worcestershire sauce, red onion and finished with crispy shallots, spring onion and chives, post oven. It's a pizza but, in your mind, you're eating cheese and onion crisps. Feels distinctively Irish."
The Bros make it sound easy and, of course, it isn't easy. They ignored the orthodoxies like they weren't even there, creating the paradigm of the DB pizza, a free-form fusion of taste and technique that put their own preferences at the centre of the pie:
"If we had a tick box of criteria when making a pizza, the following would probably be it:

"The concept has to be something quite personal to us: a memory, a favourite dish for example.

"Has to have really good Irish/Local produce.

"Has to be fun.

"Bonus marks if it can evoke nostalgia.

"We would like to think our menu is a good reflection of who we are and where we come from. We also want it to be a bit of craic. Its pizza, at the end of the day."
Personal. Local. Fun. Nostalgia. A reflection. Ever heard anyone talk about their food in those terms? Like Ari Weinzweig and the wizards of Zingerman's Deli in Ann Arbor, a famously iconoclastic, multi-million dollar food brand, the DB way is deeply personal, but also deeply subversive. The Bros have always worked it out, but in their own style as they shift the paradigms. The tech bros like to talk about disruption, about moving fast and breaking things. Compared to the Dough Bros, the tech bros aren't even at the races.
"Truth is, like anything, it's part planning, part luck, but with a constant tweaking and improving. When moving from our food truck to the pop up in 2014 we spent a lot of time looking, eating and taking in how other restaurants in casual dining were operating. We took that learning and applied it to what would work best in the premises we were moving into. A lot of time and effort was put into that back in 2014. It worked really well, so when we got our permanent digs in Middle Street in 2016 we kept the process the same, but we have constantly worked to make it better, quicker, more efficient all the time. I have to say it really works like a dream, the model works at its best when we are at our busiest which is great."
Tweaking, and improving. That sort of analysis suggests that the Dough Bros are the Apple Inc. of pizza. The future belongs to the tweakers and the improvers, not the disruptors. 
And now the Bros are about to enter a new paradigm. Whilst their life-saving lockdown pizza kits showed that if you couldn't make it to Middle Street in Galway, then the Dough Bros could come to you, the Dough Bros are now comin' atcha in a whole new way.
"The new and improved kits will have 3-4 premium hand stretched Neapolitan pizza bases, with our sauces and ingredients to make restaurant quality pizza at home, with a range of toppings to choose from featuring the best of Irish produce. We were hoping for June, but looking like July now for our kits, online and with our products launching into retail in late summer which is really exciting."
So, Dough Bros Inc. But how can you bring Middle Street and its vibe to the wider world? One pioneer, the great Parisian baker Lionel Poilane, showed three decades ago that it could be done. He called it Retro-Innovation, and that is what Eugene and Ronan have been getting their heads around.
"We have spent a year and a half planning that. Of course where semi-automation is possible you have to look at that but the reality is a lot of core processes remain the same. The dough, the fermentation, the hand stretch. There are no short cuts, there is a lot of labour involved, but we believe the end product is worth it. Customers will see it's a hand made product, made by pizza chefs, not by machines. It's a lot of work but we really believe we will disrupt the chilled pizza market and change how people eat pizza at home."
So the Dough Bros are disruptors after all! 
Truth is, they were disruptors from day one.
Megabites is a reader-supported publication. To receive new posts and support our work, consider becoming a free or paid subscriber.