Discover more from The Irish Stew
Food News From Ireland
Over 3,000 subscribers
Whilst chain hotels have careered down the path of the zombie breakfast buffet, there are still many, many people in Irish hospitality who understand that breakfast is the final experience that guests get to enjoy, so it is of the utmost importance to the experience of staying in Ireland.
Thing is, it's not easy to do right.
"I get up at 5.30 every day to prepare breakfasts," says Michael Vaughan, luminary hotelier of Lahinch's Vaughan Lodge. "I've been cooking fresh breakfasts for 18 years and, by my reckoning, that's over 100,000 breakfasts cooked with love and attention!!"
Michael Vaughan's dedication – and his ability to rise with the sun – is what makes the difference, and it's what makes him an archetypal Guardian of the Irish breakfast. This custodianship is common to all the great breakfast destinations, as Darina Allen of Ballymaloe House once explained to us: "Breakfast can be the dullest of meals or a real feast; it all depends on the care with which you source your produce." 
Of course, if you source with care, your margins are wafer-thin, if they exist at all. "We charge €15 presently and such is the quality of the ingredients, and the servers, we make not a cent profit on breakfast," says Michael Vaughan, who serves Crowe's smoked bacon, sourdough from the oven, yogurt pots with fresh mango purée, still-warm freshly-baked scones, and free-range eggs.
Thankfully, to write an exhaustive list of great hospitality provider's breakfasts in Ireland would take about five Substacks. But here are some of the standouts.
The Guardians
THE WEST
The Castlewood House breakfast is the most garlanded breakfast in Ireland. It's not just the superb selection that prompts people to hand over the gongs, it's the scalpel-like precision with which Helen and Brian execute every single one of their breakfast dishes, every single morning.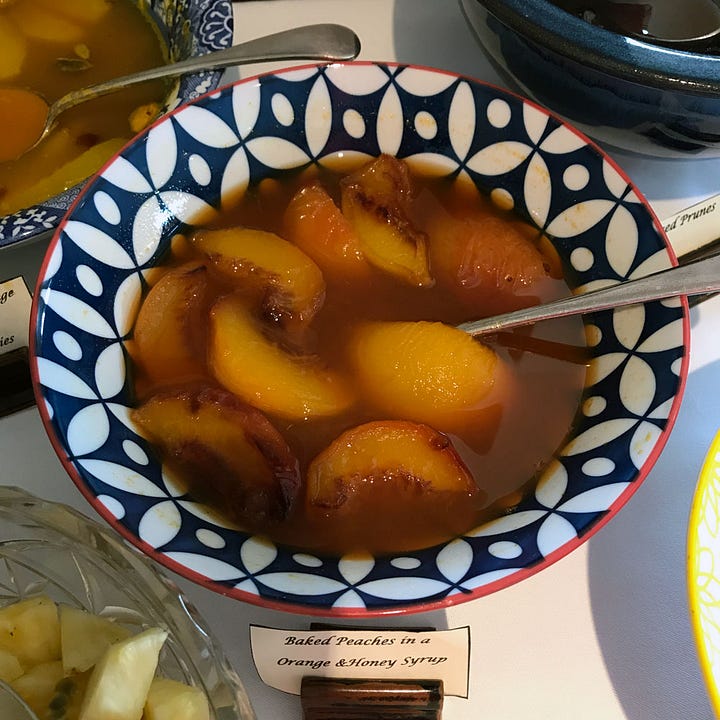 Dingle's great destinations strive to outdo one another with thrilling breakfast choices, and Gary and Maria offer one of the great Kerry breakfast experiences, and one of the great verandahs.
Hotel Doolin never resorts to clichés, and that applies to breakfast just as much as every other aspect of this funky boutique hotel, so there isn't a buffet in sight.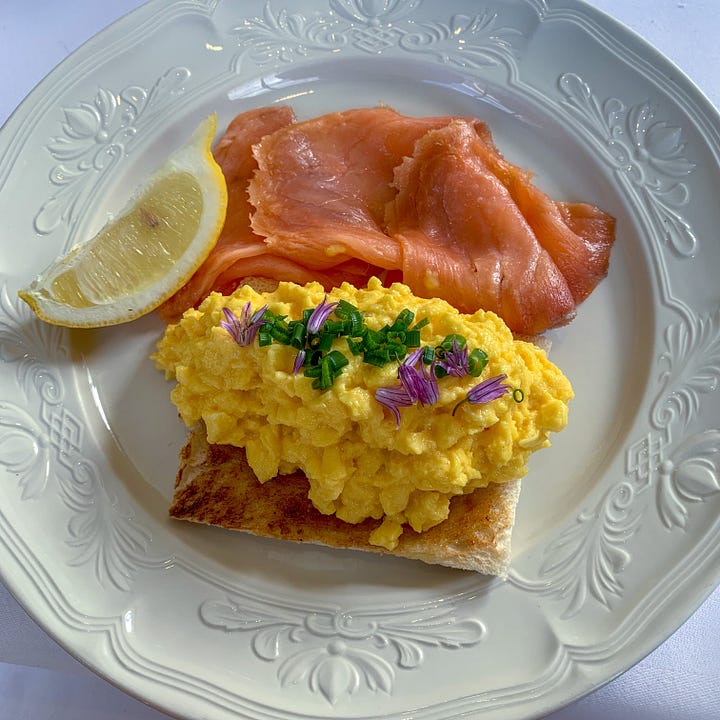 Martina and John make, and serve, every element of breakfast in Sheedy's from scratch, which means this guardian breakfast feels uniquely bespoke, and personal. Priceless.
Mary Gardiner does every little thing just right, and her breakfast baking and cooking are a gift.
When you come down to breakfast at 9.30, Michael Vaughan will have already put in a solid four hours in the kitchen in Vaughan Lodge, making sure everything you are about to enjoy is as good as it can be.
You expect top-notch everything in Adare, and that applies to their breakfast just as much as dinner and their characteristic top-flight service. Served in the cathedral-like library with its magnificent arched ceiling, it's one of the best treats you can enjoy before you hit the road, back to the real world.
The casual blue gingham tablecloths belie the rigour that the team invest in creating exceptional breakfasts in John Edward Joyce's defining country house.
The potato hash with pulled corned brisket, sourced from butcher Roger O'Sullivan, is some sort of wonderful. Brendan and Liz accomplish the morning feast with aplomb and true hospitality.
David and Victoria offer that lovely left-field style in the Corrib: poached eggs and pomegranate on avo with tahini dressed leaves on brown bread will do more than ok.
The Huntsman rooms are a bit of a secret in Galway, but the dining room pulses from breakfast onwards, so sit down next to a Connacht rugby player and enjoy deft and expert cooking, and svelte service.
A whole ham, on the bone, waiting for you on the buffet, is how Danny Barry and her team in Ballynahinch can make you feel like a billionaire first thing in the morning. The roaring wood fire helps no end.
Renvyle cooking is as graceful as this ageless coastline hotel, every detail charismatic and delicious. Part of its breakfast secret is the fact that chef Tim O'Sullivan likes to keep his hand in with scrambling the eggs and grilling the bacon.
Served on a tray privately to each guest room, the Breac breakfast is a phantasmagoria of flavours that describe the county organoleptically, from Horn Head hen's egg to Killybeg smoked salmon rilette to dilisk and cheese scones. The aesthetic is as tasty as the food.
THE SOUTH
Ballymaloe offers both the defining Irish breakfast, and the defining seasonal Irish breakfast. You must not miss the inimitable Macroom oatmeal, which you must eat with cream and brown sugar. Really. You must. No arguing.
The reason why that creamy garden kale, with sourdough and poached eggs, tastes freshly-picked is because it was just freshly picked from the garden by one of the Dunmore kitchen team. Freshness defined, in the Barrett family's outstanding West Cork destination.
An organic fried breakfast is the signature start to the Blue Haven day, but the smoked bacon potato cake shouldn't be overlooked.
The charm of the Harbour Hotel in little Schull emanates directly from the warm service from the team, and they make sure that the egg classics are delivered crisply and confidently at breakfast.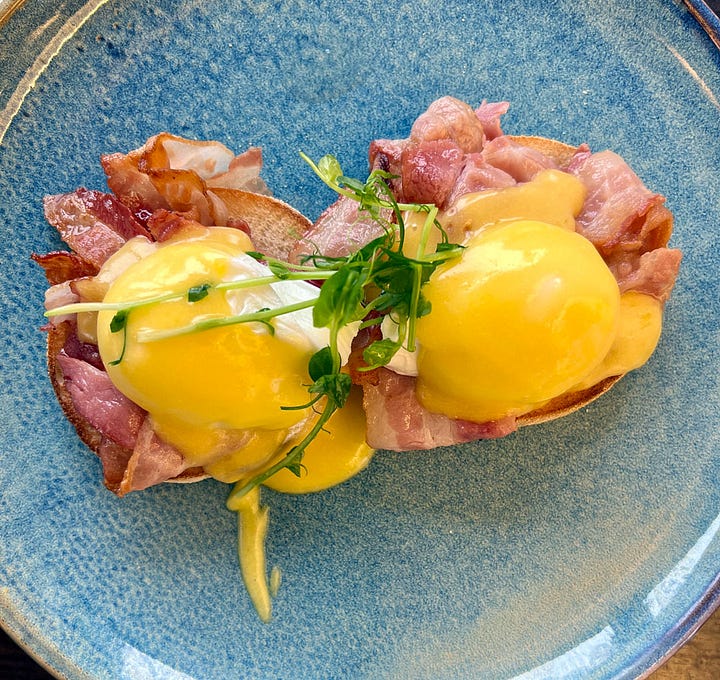 Justin and Jenny serve breakfast until noon in their peerless country house, a sign of the relaxed sang froid which is the signature of one of Ireland's finest country houses. Ballyvolane is mighty fun, and meticulous to the Nth degree. 
Neil and Katy cook for everyone in their idyllic hotel, and the vegan breakfast of vegetable and potato rosti with organic black bean and butter bean tomato ragu shows their confidence with even the most challenging breakfast dishes. Everything is made on the Aga. Everything tastes of itself.
DUBLIN
Patrick McLarnon is one of the great Dublin chefs, an expert forager and a man who takes personal care of every plate. Breakfasts in Brooks are simply exceptional.
Head chef Rose's cooking and baking are the north star of the sublime Ariel House. Flavours are created with pin-point accuracy, and a dish of Gubbeen chorizo scrambled eggs, whilst seated at the window overlooking the garden, is some sort of start to the day.
Delia Bracken's Irish breakfast is Dublin city's devoted tribute to great morning cooking, but great eggs and bacon is just one of her triumphs, so don't miss her iconic cranberry loaf, the toasted granola, and the lovely potato cake.
The vegetarian breakfast, served in the pretty basement dining space, will feed a small family, easy. With tomatoes, spinach, wild mushrooms and chickpea and sundried tomato pesto along with the eggs, it will keep the engine running until the cocktail hour, when you will be back in the same seat in The Wren, ordering an Oul' Wan. 
THE EAST
Exactingly precise cooking, and fastidious awareness to the potential of the ingredients sourced from Michael Moore's farm in Emo, means each dish of the Heritage breakfast eats like an heirloom.
You might trip over one of the Roundwood chickens as you make your way into this lovely old Palladian pile, so make sure to order the freshest eggs imaginable for breakfast. Sweet and lovely.
Bobbie and Rebecca's rectory is charmingly not of this age, and breakfast at the grand dining table, with the fire blazing away, will make you feel like almost aristocratic.
You will need to stay in the Mernagh family's lovely destination for more than one night, because the breakfast buffet offers so many temptations – Kathleen's Granola; Earl Grey prunes; camomile apricots – that a single breakfast won't let you try all of the 14 selections they offer. The boiled egg and soldiers is joy itself, for all ages.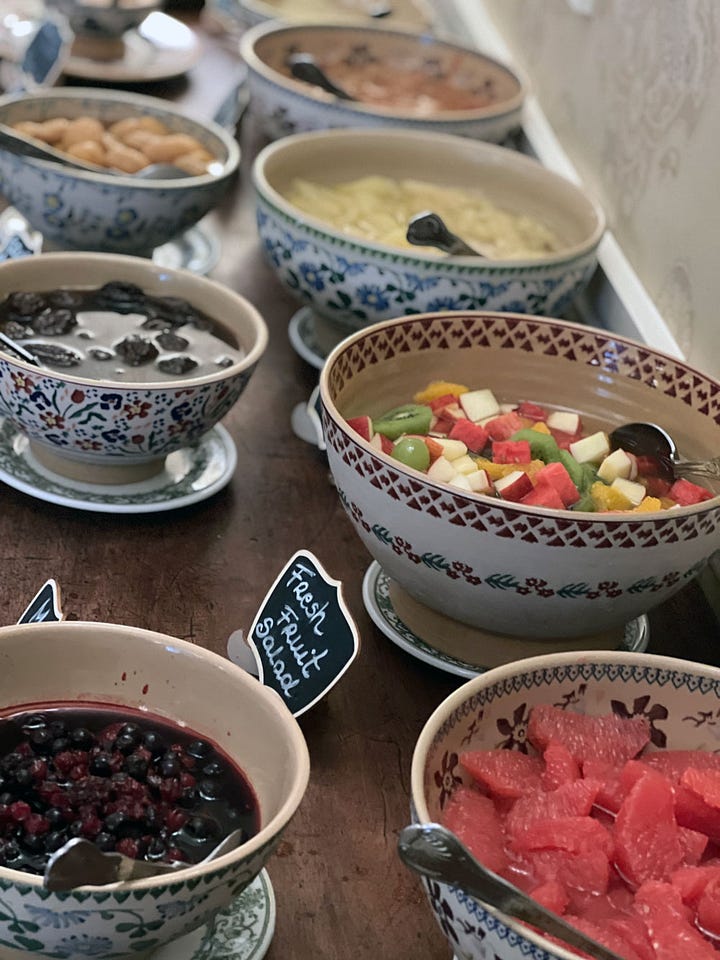 "All our breakfast dishes are cooked to order" is the Avalon promise, and this esthetically charming hotel delivers on the first meal of the day, and everything else.
Paul and Maire Flynn once experimented with serving guests breakfast in their room in the Tannery Townhouse. The guests were having none of it: they wanted field mushrooms on toast with Ardsallagh goat's cheese, and the brilliant baked eggs with chorizo, tomato, cream and Parmesan, upstairs in The Tannery dining room. Can't blame them.
Megabites is a reader-supported publication. To receive new posts and support our work, consider becoming a free or paid subscriber.