Discover more from The Irish Stew
Food News From Ireland
Over 3,000 subscribers
An Urban Hideaway. That's an oxymoron, right?
No. A UH is the place that allows you to feel the city vibe, but also to be able to escape into a quiet cocoon. To be urban, it has to be right in the centre of things, sited over the shops, adjacent to the pubs and restaurants, on one of those streets that define the spirit of the city.
And to be a hideaway it has to be calm and sensual. 
Here are two urban hideaways that we've spent time in this year, plus a directory of places nearby, and other city or town centre hideaways we love.
Become a paying subscriber to Megabites to have access to subscriber-only content.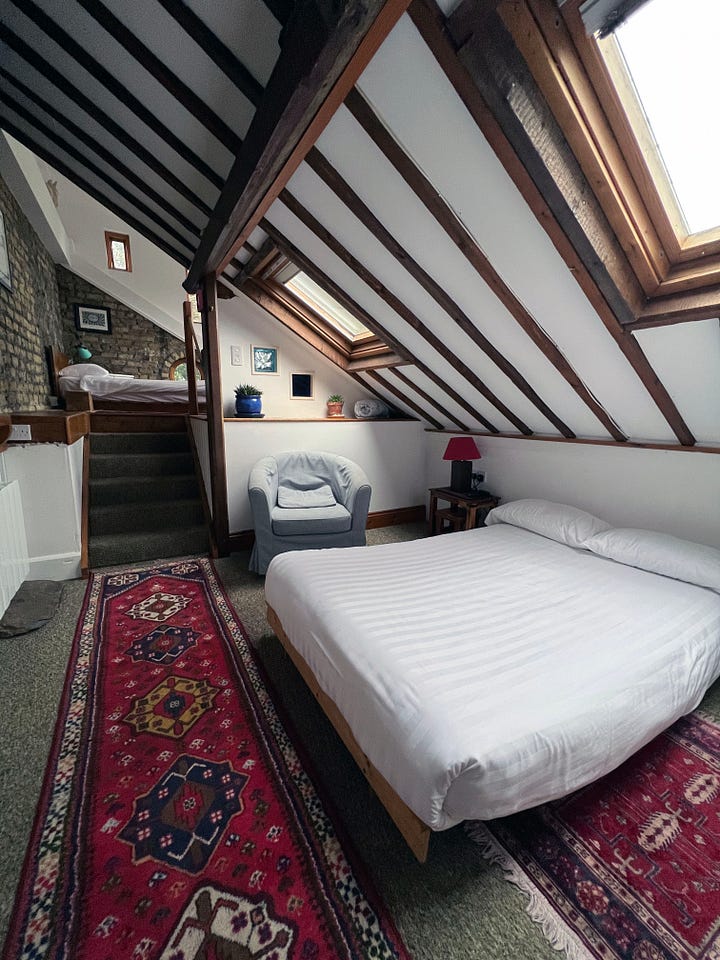 Athlone's Bastion Street is the rive gauche of Ireland's Midlands.
It's one of those narrow, winding streets that makes you think you have landed in an arrondissement in a European capital. It's quirky, with quirky places to eat and drink and shop and, in Bastion B&B, it has one of our favourite urban hideaways. 
Brothers Anthony and Vinny, both collectors, have allowed their B&B to mature over the years, so the design effect is bricolage en voyage: travel collectables from all over the world collude with old Irish adverts to decorate the walls, whilst the traditional style of the townhouse is feted by the comfort of plants and throws and comfy cushions that urge you to sit down in the common room and forget the world.
Bastion's secret sauce is the fact that it is in the centre of the centre – in the heart of Athlone, in the very middle of the country – yet the extravagantly personal and accumulated style makes it feel like a hideaway. You might have thought that an urban hideaway was a contradiction, but Bastion B&B shows that it's actually the most desirable destination. There you are, up above the busy street and right where the action is, and that's a great feeling. 
What else makes Bastion desirable? Bastion Kitchen, straight across the street, where Ann Sheehy presides, is one of those priceless places that crowds so much good stuff into a little room that it is scarcely credible, but Ann and her girls make it all work. 
We had the Bia Sol power pancakes with blueberries and strawberries, and the pork and chive sausage bap, and they were pure class. It's not easy to leave Bastion Kitchen without buying half the shop, but what you need to buy especially are the superb Ardu sourdough loaves, baked by Paul Hurst in one of the best craft bakeries. 
Just up the street is Lowe & Co, another maverick little trove of good things curated by Lynda and Eddie, with good coffee, fresh eggs from their smallholding, and a true sense of community spirit. Lowe & Co is a real local hub.
Head back down the street and you will pass both Kin Khao Thai restaurant, long the standard bearer for Asian cooking in the Midlands, and El Mezze. On your right hand side, then, is The Left Bank Bistro, where Annie and Mary have flown the flag for smart, hip cooking for almost three decades. The room is a charmer, and the girls are champions.
And then, just around the corner, is Sean's Bar. Now, Sean's may or may not be the oldest bar in Ireland, but that is less relevant than this: it's a terrific pub and, vitally, it is not a tourist trap, despite being world-famous. It's always jammers late in the evening, so go early for that contemplative pint.
Ernie Evans is a legend in Galway and his eponymous shop is as legendary as the man himself.
It's an old-style grocer's shop, which means they sell everything and curate all the good bits from local superstars. If you need freshly-baked loaves from the kitchens of Kai, or a bottle of super-good natural wine from an ace European winemaker, then you will find those loaves and those vital juices here, in the West End.
We stayed in the AirB&B above the shop, and loved the feeling of being a literal stone's throw from the West End action. We strolled to Urban Grind for our morning Americano, or took a longer walk to Salthill to get our caffeine fix at the stellar Kali Coffee. The Salt House was just around the corner for pints of craft beer, and all the talents of the culinary zone were just out the door, from Aniar to The Universal. Plus, Sarah Jenkinson's gorgeous baskets are crafted at the rear of the shop, and one of them has your name on it.
Ernie and the team have also solved the puzzle of the expensive parking system in the city, but we will let them reveal that to you. The rooms were comfortable, spacious and affordable. Best of all, we were in the centre of Galway's happening scene.
Directory 
Thyme Restaurant, Athlone
While we were in Athlone, we had dinner in Thyme.
John Coffey is the most modest of chefs. He is also the most tenacious of chefs. For the first several years after he opened Thyme in 2007, Coffey didn't make any money. But, he persisted, and today Thyme is one of the best dining rooms in Ireland. Coffey makes a terrine of pheasant, partridge and mallard, a real hunter's dish, and the flavours are so vivid and feral that they ferry you straight out to the epicentre of the Midland lakes. But he can do deftness, so wild sea bass with a seaweed beurre blanc lets the brilliant wild fish shine, with seaweed and pickled mussels counterpointing the sweet fish. The dinner menus follow a wise arc of three courses, with house sourdough and a chicken and lemon butter that combines to taste like the best stuffing you ever ate. "Go in there and give John a clap on the back!" a diner at the table next to us exhorted the waitress. Actually, John Coffey and his team in Thyme deserve an ovation.
While we were in Galway we had lunch in Ard Bia.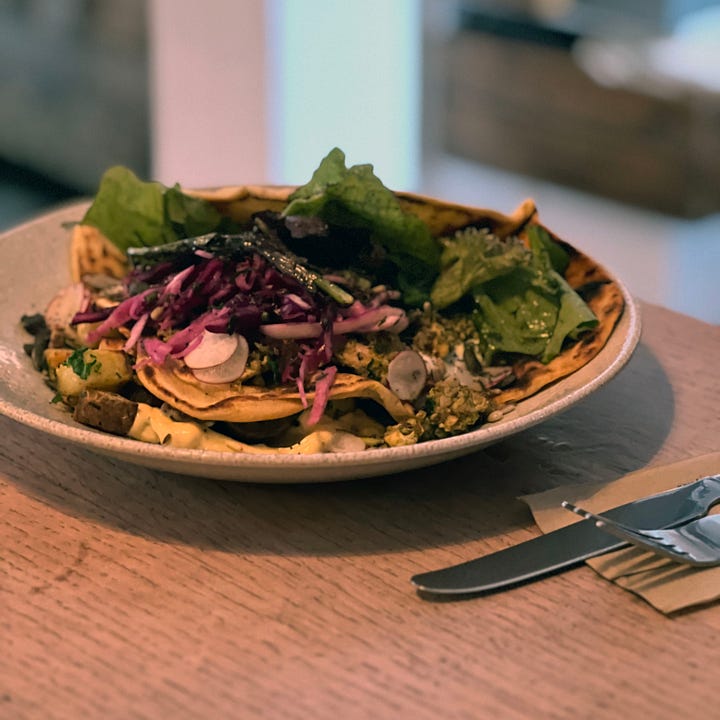 Because owner Aoibheann McNamara has so many diverse artistic irons in the fire – designer; gallerist; tweed originator; renovator; hostess – there can be a tendency to overlook the core excellence of the cooking in Ard Bia. But if the Ard Bia team hadn't been plating up in style, then they would never have lasted fifteen years in Nimmo's at Spanish Arch. In fact, they have thrived for those fifteen years, thanks to an ever-changing and ever-excellent team, both in the kitchen and out front of this only-in-Galway restaurant. Ard Bia pulses with a singular culinary style that is always surprising, quirky, clever, full of grace notes – the hit of harissa in a carrot and sweet potato soup, the grilled aubergine in a cheddar toastie, the buckwheat with chicken shawarma on a deft flatbread. The food is moreish, natural tasting and logical, and the fact that they achieve this excellence from breakfast to dinner is remarkable.
Here are some other hideaways:
This ageless Dingle destination has three rooms for guests, upstairs on Main Street. Book super-early if you want to stay here during the fantastically clamorous Dingle Food Festival.
The Trinity is glammer than the other destinations in this list, and is essentially a full-scale hotel, but you can't get closer to the centre of Dublin, and breakfast is served in the Library Street dining room. Anything served in the Library Street dining room is ticketyboo by us. 
Giles Norman is a very well-known landscape photographer, but interior design might just as easily have become his calling, because the rooms in his Kinsale townhouse are pure gorgeous.
Sister destination to 1852 on Botanic Avenue, the Ringland brothers set of suites has a heart-of-the-city location. We asked a family member who spent a few days there whilst at a conference, and this is what they said: "Industrial aesthetic. No communal spaces, just rooms. No restaurant although there are plenty nearby. Room was spacious, with a sofa, table and small kitchen. Bed was big and comfy enough. Shower, no baths. Good location."
Kate Cooke has created ten of the most colourful and flamboyantly designed rooms in the centre of town, which makes your choice when touring the Ring of Kerry a simple one. Super cooking in the family's QC's restaurant, with fresh seafood landed by the Quinlan family's fleet of boats.