Discover more from The Irish Stew
Food News From Ireland
Over 3,000 subscribers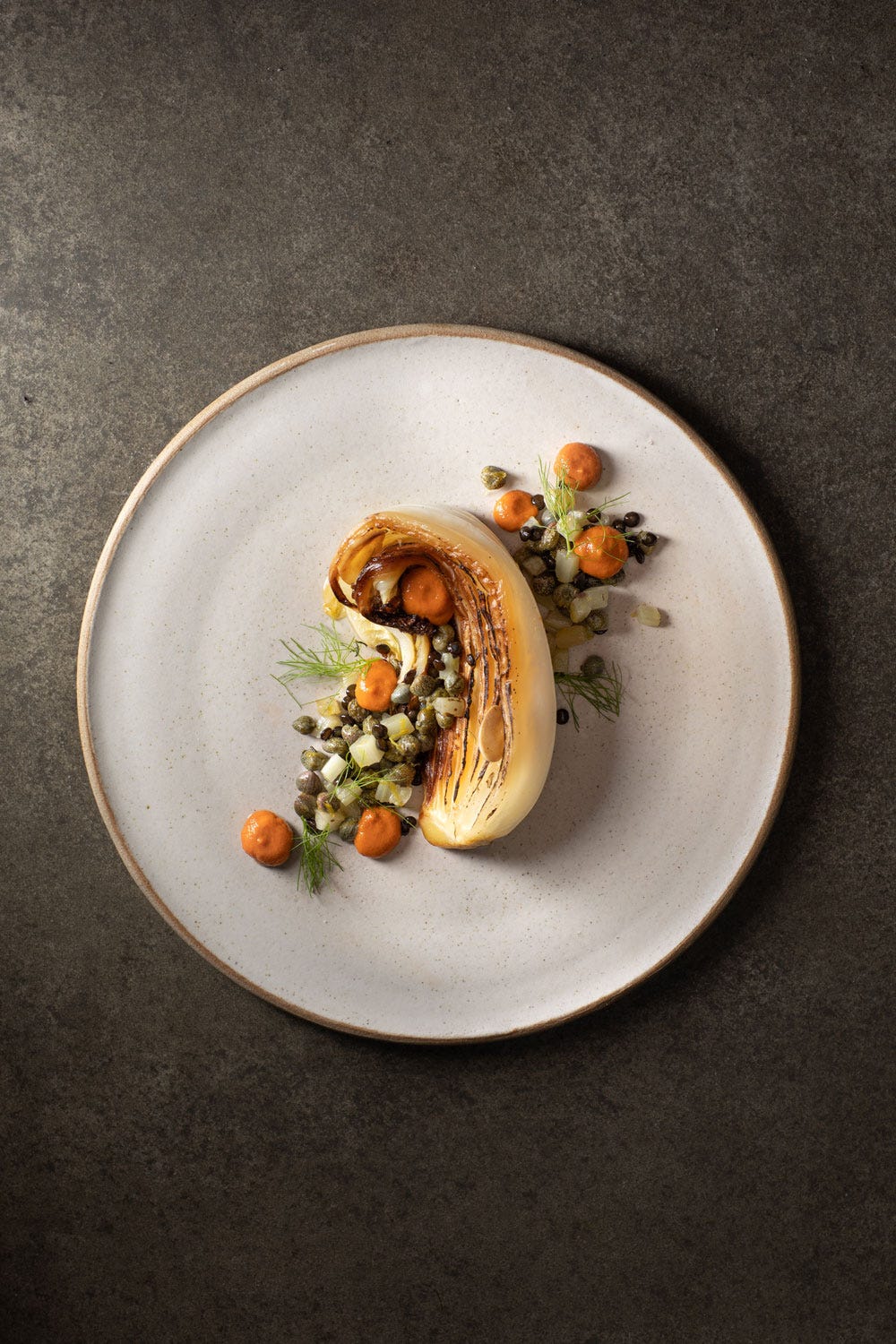 If you want to eat the cooking conceived and cooked by Denis Cotter and his team, then you have to make your way to the simple room on Cork's Western Road, where Cotter has served superlative food for three decades, without ever utilising animal products in his dishes.
No one else, nowhere else, cooks anything like Paradiso food. This extraordinary USP has been an enormous boon to the restaurant, drawing in customers who travel there from all over the globe. 
When Amanda Cohen, of New York's storied Dirt Candy restaurant, visited Ireland several years back, her bucket-list priority was dinner in Paradiso. For restaurateurs like Cohen, who serves a plant-based menu, you need to know what is going down on the banks of the River Lee. (The river is important to Paradiso: at unpredictable times, it likes to flood right through the restaurant's door.)
Paradiso, so modest, so simple, so quintessentially Cork, is the most internationally famous restaurant in Ireland. Only Ballymaloe House comes close.
Such fame virtually demands imitation, and yet nobody has been able to imitate Paradiso food. This is made all the more curious by the fact that for almost twenty five of the last thirty years, Denis Cotter's bag of tricks has been hiding in plain sight. 
His first book, The Café Paradiso Cookbook, published in summer 1999, was an enormous success. Its successor, Paradiso Seasons, was another enormous success. The techniques, the methods, the thinking, were all laid out by the chef, from core building blocks to the funky Paradiso staples such as asparagus, mangetout and pinenut risotto.
In his next books, Wild Garlic, Gooseberries… and Me, and For The Love of Food, Cotter became even more discursive and self-analytical, deconstructing his methods, creating avant garde texts on growing and cooking, and on writing and cooking. Few chefs have ever offered the complete arc of their work so generously.
And yet, you can only find Paradiso food in Paradiso. 
Denis Cotter's new book, simply called Paradiso, makes plain why his work has never been successfully imitated. Paradiso the book shows that Paradiso the restaurant is a sensibility. 
It is not a cooking style: it is a cooking philosophy. It is a way of looking at the world, and making sense of that world, captured through the prism of professional cooking.
In the book, Cotter lays out the process of creating that sensibility as the team work on fashioning an idea into something new:
Even when one of those has reached the stage where it looks good and tastes great, a dish still has to answer the question: is it us, though? Is it Paradiso?... More than the hard information – the words and numbers in all those notebooks – it's the understanding that is constantly passed along in the kitchen as new ideas mingle with older ones to create a living, evolving repertoire that stays in the place no matter who comes and goes. At any and every point in time, everyone in the kitchen knows what Paradiso food is and how to make it.
"A living, evolving repertoire that stays in the place." 
And the place is Paradiso, on Cork's Western Road. Just past the bridge, on the right as you head towards UCC. One room, no frills.
Megabites is a reader-supported publication. To receive new posts and support our work, consider becoming a paid subscriber.
Reading Paradiso
Paradiso is the third book collaboration between Denis Cotter and designer John Foley, and the fourth Nine Bean Row title published by Kristen Jensen.
Cotter and Foley worked on the first two Paradiso books – known as the yellow and the green books, colloquially – and there is a true meeting of minds when they work together that creates a symbiotic energy.
Paradiso the book is itself a beautiful, beguiling thing. It is a left-field fist in an aristocratically gloved hand. It's an object that you want to own, simply for its beauty. Even if you never cooked the recipes, just leafing through its classy pages is uplifting: it's pure gorgeous, a work of art in its own right.
In the same way that Paradiso is a sensibility, Paradiso the book wins its own distinct sensibility. Ruth Calder-Potts' photographs and Charlotte O'Connell's food styling bring a moody, shadowy maturity to the project, and the team have delivered what is a landmark title in Irish food publishing.
Eating Paradiso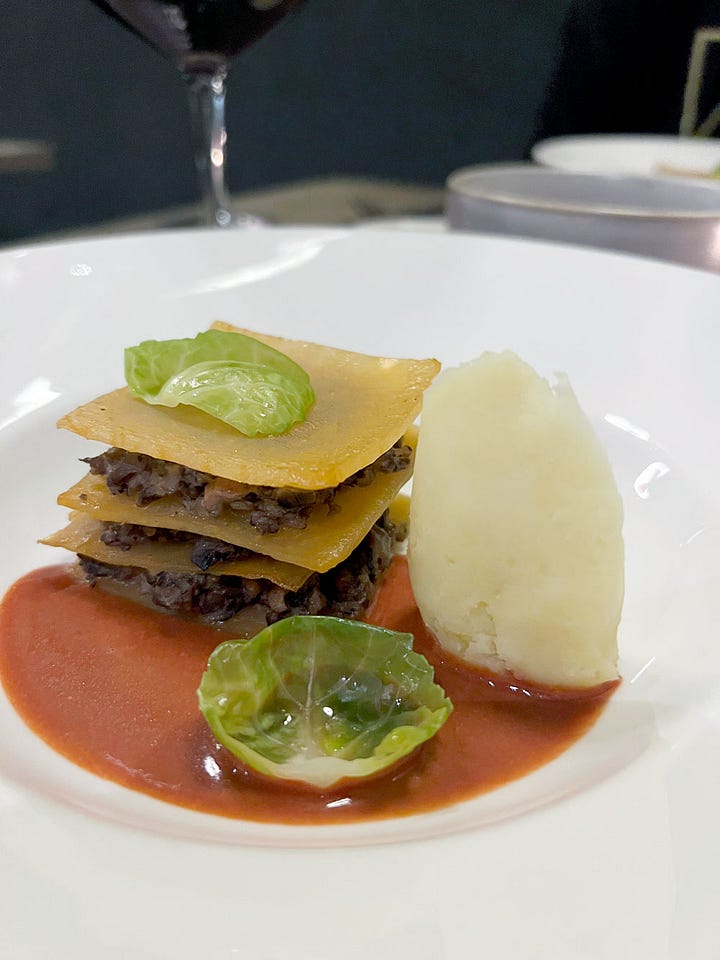 Photos McKennas' Guides
The 2023, 6-course menu in Paradiso costs €65, which makes it the best value menu in the country. Add in the fact that Dave O'Mahony's ingenious wine list is extremely keenly priced, with almost all of the wines available in four formats from glass to bottle, and dinner in Paradiso tops the quality-value index, with gas in the tank.
The wine list is a peach, so you can drink field blends from the Czech Republic, natural wines from the Douro, plump Cabernet Francs from the Loire, and there is even an affordable Alvaro Palacios rioja from Spain.
This is the sort of good news that makes you happy even before you have a bite to eat. And when Miguel Frutos' food begins to arrive, the feel-good factor goes into overdrive.
For Paradiso veterans there are thrills in seeing how M. Frutos has worked on classics such as the braised turnip and chestnut galette, or the Cais na Tire tortellini, lightening and refining both dishes whilst sharpening the focus with sauces such as beetroot and port gravy, or lemon thyme with hedgehog mushrooms. Whilst the pumpkinseed chocolate mole is now one of the menu staples, its partners change with the seasons. In winter there will be squash, corn and pickles, whilst in spring the mole steps out with Napa cabbage subbed for the squash.
It's this seasonal substitution that keeps the dishes en pointe, giving the sense of spontaneous creativity, a sense that the kitchen is continually improvising through the act of dinner. 
After a triple helping of zingy snacks – frivole with orange, ginger and fermented chilli; a dandan tofu minxo, and a lentil rasam – the four main courses are a rainbow-coloured parade of plant-based possibilities, summoning influences and techniques from everywhere in a batterie of effects.
Paradiso food eats cleanly, with lots of subtle grace notes dotting the dishes – pickled plum with scorzonera; stout toast with aged Coolea; blood orange in a posset; pecan snap with rum mascarpone. The cooking's sense of gracefulness keeps the palate alive to the very end, with the food and the wines conjoining with the room's ambience into a very complete, very Paradiso, aesthetic. 
The staff, of course, are Pure Cork.